Qualia Formulations
We look to provide people with the products, resources, and tools they need to help their whole being - mind, brain and body - work together in harmony.
To learn more about the ingredients, formulation, and pathways our products support. Explore the resources below.
Choosing the Right Formula
QUALIA FOCUS & QUALIA MIND are premier, research-based nootropics designed to support and maximize brain health.* Determine which product is right for you by viewing the differences below.
SUPPORT
starting as low as $34.50
starting as low as $69.50
Focus and Concentration (i.e. avoid distraction)
Reasoning (i.e. problem solving)
Mood & Emotional Enhancement
Stress-Related Fatigue and Energy
Full-Spectrum Nootropic Pathway Nutrition
Neuroplasticity, and Neurogenesis (i.e. brain health)
Cell Energy & Membrane Health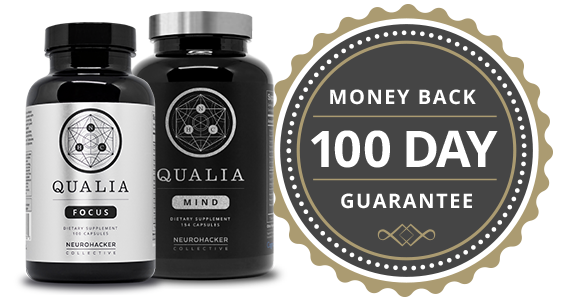 Money Back Guarantee
Feel 100% Satisfied within 100 days or get a 100% refund. There is no hassle. You do not have to return anything to us. If you do not love Qualia for any reason, simply get in touch via phone or email and let us know you'd like a refund. That's it.
100 Day Money Back Return Policy applies as a full refund within 100 days for all first time purchasers of an initial order of product, or final order of a subscription. It does not apply to an individual's additional product orders placed after an initial order. Limit one (1) guarantee per product, per household.
Terms and Conditions
-
Privacy
* These statements have not been evaluated by the Food and Drug Administration. The products and information on this website are not intended to diagnose, treat, cure or prevent any disease. The information on this site is for educational purposes only and should not be considered medical advice. Please speak with an appropriate healthcare professional when evaluating any wellness related therapy. Please read the full
medical disclaimer
before taking any of the products offered on this site.
† note offer applies to first-time subscription orders only